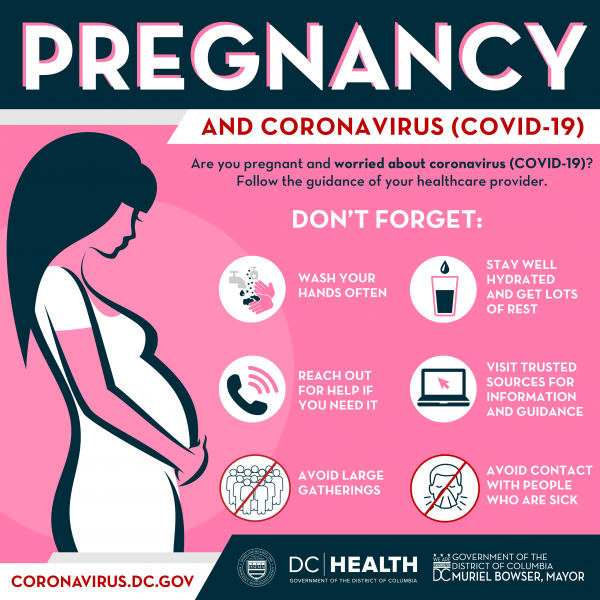 With any public health concern, we need to be prepared and informed about possible impacts coronavirus may have in our community. Stop the spread of germs and stay informed. For more information on the District Government's preparations for potential impacts of coronavirus (COVID-19), please visit coronavirus.dc.gov for the most up to date information & details.
Mayor Muriel Bowser launched the District's COVID-19 needs hotline and web portal to streamline the ability for residents to access a variety of critical resources. Eligible residents can call 1-888-349-8323 or visit gethelp.dc.gov to have food and other essential items delivered to their homes if they have been directed by a medical provider to self-quarantine or have no other means to acquire these items.
---
Child Care Safety During COVID-19
What to Expect at Your Child Care Provider During COVID-19
Child Care Recovery Best Practices: Resources, templates and tips shared by licensed child care providers in the District of Columbia
How to Use Early Learning Standards and Distance Learning Guide to Support Children and Families
Distance Learning for Early Childhood Education
Health & Safety Guidance for Child Care Providers: COVID-Recovery Period
---
District Resources
National Resources
---
The Office of the State Superintendent of Education has modified, updated, and re-circulated policies related to school closures, including health guidance, safety checklists, and information on provision of early intervention services. For the most up-to-date information and guidance, visit https://osse.dc.gov/page/updated-osse-guidance-documents.
OSSE Distance Learning Supports
OSSE content specialists are now holding weekly sessions to support you with distance teaching & learning. Check out the topics and RSVP today: http://osse.dc.gov/distancelearning.
As the District continues to work together in response to coronavirus (COVID-19), the Office of the Deputy Mayor for Education has created a new landing page at dme.dc.gov/educatortools to serve as a curated repository for guidance, bulletins, working group documents, resources and more. The website will be updated regularly so check back often.
DCPL Distance Learning Resources
DC Public Library recognizes that many families are pursuing distance learning for the first time. While it can be an incredibly rewarding experience for families to learn together we know it can also feel overwhelming to find the right tools and resources that will help your student succeed. The library has a list of items to utilize while completing assignments.
Inspired Teaching's Interactive Lesson Library
Center for Inspired Teaching redcognizes teachers as the most influential school-based factor for student success. Explore their website for a library of free interactive lesson ideas for support with creating lessons.
DC Action for Children: Monitoring COVID-19 Response
DC Action for Children has compiled up-to-date resources for organizations serving children, youth, and families in the District of Columbia.
A Wider Circle's Response to COVID-19
A Wider Circle has compiled a list of DC-based resources for families and provideers during this challenging time, from food and mental health resources to housing and transportation. Click here to access their regularly updated resource guide.
An Open Book Foundation: Resources for Educators
An Open Book Foundation has developed a list of educational resources designed to support DC area education partners. Find information on free children's literature, virtual events, and more on their regularly updated list..
DC Arts and Humanities Education Collaborative
The DC Collaborative has compiled an online Distance Learning Resource Database, which is a list of online and downloadable arts and humanities education resources from members. Resources encompass curricular guides, virtual field trips, and other educational activities to enhance students' at-home learning experiences.
---
Culturally Responsive Education Hub
NYU Metro Center is working to center equity and culturally reponsive-sustaining education with the rapidly changing set of circumstances brought on by COVID-19. As teaching and learning transtions online, educators can access tools in which multiple expressions of diversity are recognized and regarded as assests for teaching and learning.
Discovery Education works to help schools and communities maintain continuity of learning in the event of prolonged school closures due to coronavirus. For those with access to Discovery Education, you can access these resources here. For schools not currently using Discovery Education resources, but experiencing closures, Discovery Education is offering free access through the remainder of the school year. To request access, school leaders must fill out their access request form, linked here.
Free Subscriptions Due to School Closings
Kidactivities.com has compiled a list of education companies offering free subscriptions due to school closings. Visit their website for instructions on how to sign up.
Harvard University's Center on the Developing Child
Center on the Developing Child has created this helpful guide on supporting children (and yourself) during the coronavirus outbreak. The guide offers free, simple activities to support healthy child development. They have also created this helpful infographic to explain the basics of what COVID-19 is, and what it can mean for stress levels in both children and adults caring for them.
National Association for the Education of Young Children
NAEYC has compiled online resources to provide information from national health and educational organizations.
New Schools Venture Fund School Closure Resources
New Schools Venture Fund has a free online resource database organized by audience & student age group. Visit their website for supports offered today.
This site provides exciting, engaging media-rich learning opportunities for educators, parents, and caregivers of children. Educators can explore Massachusetts' Early Learning Curriculum for children 3-5 or fun, low-cost activities for children birth to 3. Watch video-based trainings to health you use best practices in your setting.
Planning for school closure is hard. Scholastic Learning at Home is a free resource that can provide all students with 20 days' worth of exciting learning journeys spanning content areas. Students will have access to approximately three hours of meaningful learning opportunities daily. All information is accessible on any device.
Teaching for Change has compiled a list of recomended equity and family engagement COVID resources for educators as they engage families from a distance. Their site also provides resources for families as they adjust to the abrupt switch to learning at home.
Resources for Learning at Home When Schools Close
The New Teacher Project (TNTP) has compiled a list of high-quality, home learning resources across content areas. Most are fully accessible via smartphone.
ZERO to THREE's Resources for Early Childhood Professionals
ZERO to THREE has compiled a list of resources for early childhoold profesionals. Visit their website for inforation and resources on professional development, online courses, maintaining your self care, and supporting families you serve.