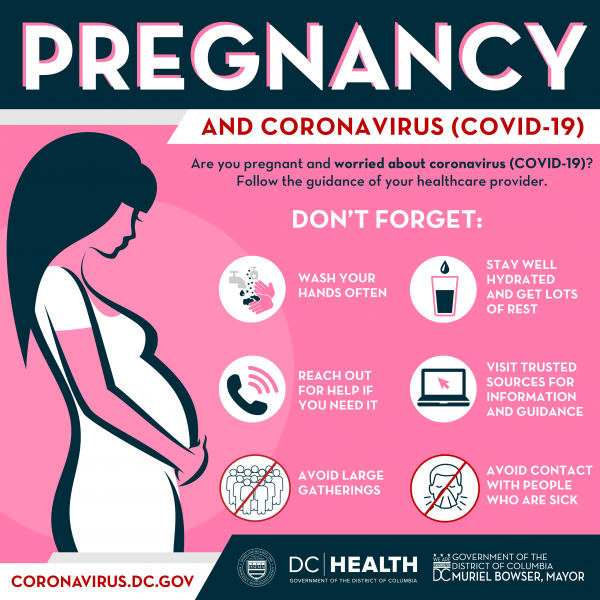 With any public health concern, we need to be prepared and informed about possible impacts coronavirus may have in our community. Stop the spread of germs and stay informed. For more information on the District Government's preparations for potential impacts of coronavirus (COVID-19), please visit coronavirus.dc.gov for the most up to date information & details.
---
GUIDANCE: Social Distancing for Families with Children
GUIDANCE: Guidance for Child Care Providers and Families Related to Coronavirus (COVID-19)
---
Information for Families
While children are not at a higher risk for COVID-19 than adults, it is important to arm yourself and your family with facts and helpful information.
Given the newness of COVID-19, medical professionals are still evaluating the impact of the disease on young children. To date, children confirmed generally present with mild symptoms. We do know standard practices that can help you keep yourself and your family healthy and safe:
Social distancing and significantly limiting or avoiding large gatherings or crowds.
Washing your hands multiple times a day with soap and water for at least 20 seconds. (An alcohol-based hand sanitizer may be used if soap and water are not available.)
Avoiding touching your eyes, nose, and mouth with unwashed hands.
Staying well-hydrated and getting lots of rest.
Avoiding close contact with people who are sick.
Staying home when feeling sick.
Covering your cough or sneeze with a tissue and immediately discarding the tissue in the trash.
Cleaning and disinfecting frequently touched objects and surfaces.
Avoiding all unnecessary travel.
You can encourage your child to help stop the spread of COVID-19 by teaching them preventative actions that we should all take to stay healthy.
Other information to know:
While young children are not at higher risk and generally display milder symptoms than adults, they can still infect others. If others in your home are at a higher risk for severe illness, consider extra precautions to separate your child from those individuals.
With many schools and child care facilities closed to help slow the spread of the virus, you can keep the learning going with a structured routine and resources.
With the news coverage about the spread of coronavirus, information can be overwhelming for adults and frightening for kids. You can work closely with children to talk about COVID-19 in a way that is easier for them to understand.
More information about coronavirus, COVID-19, and its impact on young children and families can be found at coronavirus.dc.gov, cdc.gov/coronavirus, and the following links:
CDC: COVID-19- Caring for Children
American Academy of Pediatrics: Critical Updates on COVID-19
NPR: For Kids- A Comic Exploring the New Coronavirus
---
Resources For Families
---
District Resources
DCPS Coronavirus (COVID-19) Updates
DC Public Schools is providing key updates for students, teachers, and families around coronavirus (also known as COVID-19). Visit their site for information on calendar changes, student and staff travel, distance learning, and meals for students. Reminder— free meals are being provided to ANY DC students at multiple locations around the city. https://coronavirus.dc.gov/food
Need help navigating their online resources? Check out their Navigating DCPS Resources video!
The DCPS Instructional Continuity page is now available for all. Visit the Learners tab to view and download student-facing distance learning plans for students PK-12 in all content areas. Visit their Famiies tab for resources to help ensure continuity of your child(ren)'s instruction.
DCPS has also announced new learning at home video lessons for K, 1st and 2nd graders! Tune in each morning on TV or catch up on YouTube to learn with DCPS teachers. Watch "Fun with Phonics" with your child each day on DKN or on their YouTube channel.
Learning Doesn't Stop- Lessons on TV
Washington Teachers' Union has partnered with Fox 5 to air lessons on television for students who do not have access to laptops or WiFi during school closures. Each day of the week will feature a 30-minute lesson aligned with district learning standards for a particular grade group.
DCPL Distance Learning Resources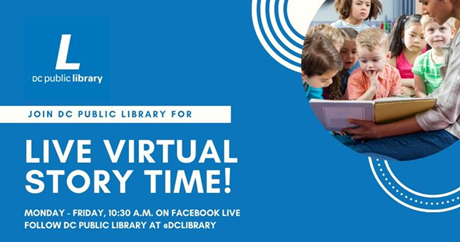 DC Public Library recognizes that many families are pursuing distance learning for the first time. While it can be an incredibly rewarding experience for families to learn together we know it can also feel overwhelming to find the right tools and resources that will help your student succeed. The library has a list of items to utilize while completing assignments. You can also join DCPL Monday- Friday at 10:30 am for virtual story time. Tune in here: https://www.facebook.com/dclibrary
BookFlix pairs high-quality children's video storybooks with factual ebooks for pre-schoolers, kindergartners and beginning readers.
---
At-Home Learning
Greatschools.org has a list of tips to help keep your child on track while distance learning.
Wide Open School is a free collection of online learning experiences for kids. They offer many resources that can be completed offline and on smartphones, as well as bilingual and English-language learner resources.
Even when schools are closed, you can keep the learning going with these day-by-day projects to keep kids reading, thinking, and growing! Scholastic's learning journeys, broken up by grade level, are available on any device and can provide your child with up to three hours of learning experiences per day.
PBS KIDS' weekday newsletter offers activities and tips you can use to help kids play and learn home.
Reading Partners: Virtual Story Time
Virtual Story Time is an interactive read aloud using grade-level texts. Students can ask and answer questions and engage in critical thinking through volunteer-led discussions.
During Story Time from Space, astronauts on the International Space Station are reading books to the children of Earth.
Parents' Guide to Google Classroom
Google Classroom can serve as your child's digital link to learning by providing organized assignments and class content in one easy-to-access online space. To join a class, go to classroom.google.com. Your student can use a class code (provided by teacher) or accept an invitation from your teacher.
Learning Care Group has programs designed for children aged 6 weeks to 12 years.
This site provides exciting, engaging media-rich learning opportunities for educators, parents, and caregivers of children. Parents and families can make each day a learning adventure for their child with quick and easy ideas, useful tips, and practical, how-to parenting videos.
Virtual field trips are a great way to expose kids to new places all from the comfort of your home. You can also experience museums around the world with virtual tours and online exhibits. Visit Google Arts & Culture for more information.
Preparing for Coronavirus & School Closures
EdNavigator has a list of tips for parents, including those unable to work from home. Visit their site for information on the big things families should know and do.
New Schools Venture Fund School Closure Resources
New Schools Venture Fund has a free online resource database organized by audience & student age group. Visit their website for supports offered today.
---
Educational YouTube Channels
Youtube can serve as a valuable educational tool with free on-demand videos available 24/7. Check out a few educational channels:
Other Online Resources: