The First Five Years Of Life Have So Much To Do With How The Next 80 Turn Out
Learning Begins at Birth
Babies and toddlers grow and develop at an astonishing rate. About 85 percent of the human brain develops in the first three years of life. During this period of crucial development, young children form the "wiring" needed to think, communicate, move and form attachments with those around them.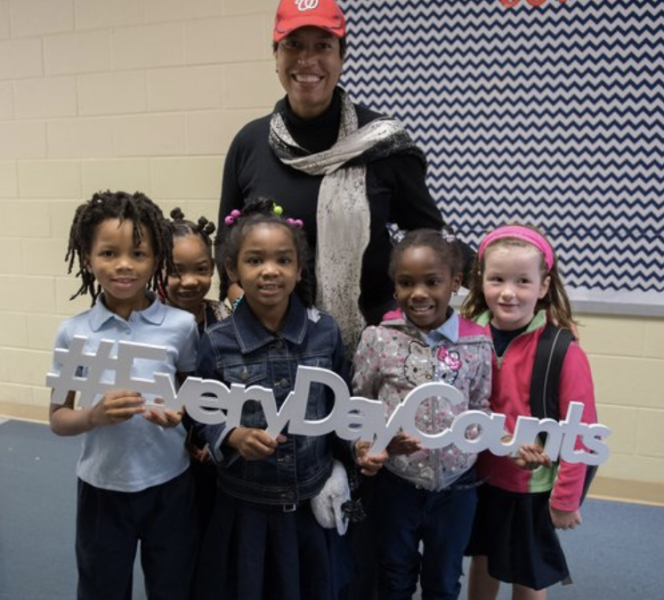 Every Day Counts
Even in the early years, Every Day Counts! Children gather the building blocks for school readiness long before they enter a kindergarten classroom. Kids who attend school every day in pre-kindergarten are more likely to be proficient readers in 3rd grade. Learn more at attendance.dc.gov.
Early Learning is a Smart Investment
Investing in early learning is not only the right thing to do, but it's also the smart thing to do. Every dollar invested in high‐quality preschool programs has the potential to save future costs related to social services, remedial education, public safety and juvenile justice.
OUR VISION
The first years of a child's life are incredibly important, and we know that during this critical developmental period, parents and caretakers are a child's first teacher and most important advocate. As we work to spread inclusive prosperity and ensure that all Washingtonians are benefitting from our city's growth, initiatives like Thrive by Five DC will put more families on a path to long-term success and prosperity.
— Mayor Muriel Bowser
Every child in the District of Columbia is a born a healthy, full-term baby ready to thrive.
A city-wide initiative led by the Deputy Mayor of Health and Human Services, Thrive by Five DC brings together communities, organizations and resources so that every child has a chance at the best start possible.
We believe that this can only happen when people work together for a common cause. Whether a parent, caregiver, family member, doctor, nurse, teacher, social worker or community leader – every child is counting on you.
OUR ROLE
By coordinating across District agencies and programs, Thrive by Five DC connects families to the programs and resources they need to succeed and thrive. The office of the Deputy Mayor of Health and Human Services plays two important roles that we are uniquely situated to do:
COLLABORATION: We bring people together to develop a shared vision for what the District's youngest children and their families require for a great start. Guided by data, deep expertise and voices from the field and families, we share this vision at all levels, engaging and inspiring decision makers, donors, new partners and families to join us.
COORDINATION: We are committed to building collective capacity to serve children and families, wherever they are. We will provide tools and resources to elevate key issues and serve as a crucial conduit to spur action and broaden the commitment to early learning.
OUR VALUES
To ensure a strong start in school and life for all children in the District of Columbia, this initiative is guided by the following values:
Parents are their child's first teacher and most important advocate.
Early childhood development is about more than early learning and demands a comprehensive approach.
A focus on equity and access for children and families is crucial to closing the opportunity gap.
Engaged, supported and connected communities are vital to a healthy early learning system.
High-quality programs require a balance of evidence and innovation.
Authentic partnerships are essential to progress and success.
OUR PARTNERS