More than 26,000 children under age three live in the District of Columbia. More than half of their families struggle to afford child care. DC is working to expand families' access to high-quality early childhood development programs.
Programs and initiatives: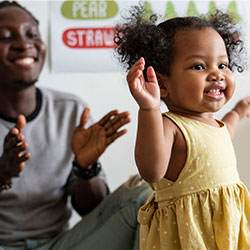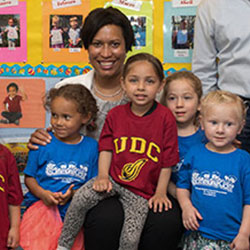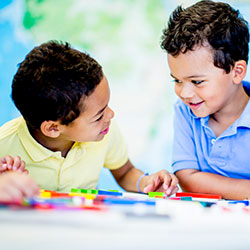 For more information about efforts to increase access to high-quality early childhood education, visit the Office of the State Superintendent of Education (OSSE) website and read the 2019-2023 OSSE Strategic Plan.
---
Child Care Planning
Evaluation
Capital Quality (QRIS) allows parents to review and compare the program quality of various child development providers throughout the District.
The Quality Improvement Network (QIN) is a citywide effort to build capacity, increase access, and enhance the quality of infant and toddler care in the District of Columbia. The Office of the State Superintendent of Education (OSSE), as the lead agency for this initiative, collaborates with other district child and family service agencies to ensure effective service coordination and support for the children and families enrolled in the QIN. For more information about the QIN visit OSSE's website.
The Child Care Subsidy/Voucher Program assists eligible families with child care costs. Learn more about eligiblity for your family today.
---
Early Child Care & Development
My Child Care DC provides parents with meaningful information about child care in DC. Search for licensed child care, browse and compare child care options, and discover early learning resources.
To find child care options near you:
Development
The Strong Start DC Early Intervention Program serves as the single point of entry for DC infants and toddlers whose families have concerns about their development.
If you have concerns about your infant or toddler call 202-727-3665.
---
Early Education
Early Learning
My School DC is the common application and common lottery for the District's public school options. Find everything you need right here to learn, apply and enroll your child. Contact the My School DC Hotline at 202-888-6336 or email [email protected]
Children who attend Head Start participate in a variety of educational activities and receive free medical and dental care, healthy meals, and snacks. Learn more about the program and find a provider: Head Start website.
The District provides free, high-quality Pre-Kindergarten in DC Public Schools, public charter schools, and community-based organizations. Learn more about Universal Pre-K in the District: Early Learning website.
Early Literacy
Learning to read and write begins before children start school, with signing, talking, and reading in your everyday life. The District offers a number of resources to help you prepare your child to learn.
DC Public Library has materials for all ages and stages of child development, from board books to music and videos, as well as adult literacy programs for parents.
Books from Birth is a DC Public Library program that mails a free book each month to enrolled children from birth until five months. Visit the website or contact [email protected].
The Sing, Talk and Read (STAR) program helps parents and caregivers learn how to weave singing, talking, and reading into daily activities.
Story Time at the library incorporates the early literacy skills, such as vocabulary building, phonological awareness and letter knowledge that children must master before they can learn to read. Every week, the library offers programs matched to the typical attention spans and developmental levels for children of all different ages. Find a story time near you.