The District is working to provide children and their families with the social, emotional, and financial resources needed to thrive.
Programs aimed at helping all families succeed include: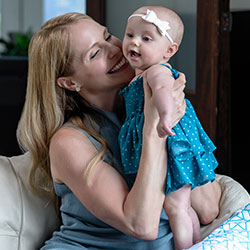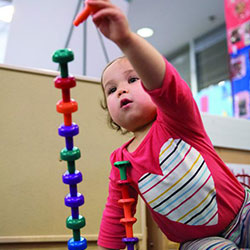 ---
Early Intervention & Assessment
Early Stages is a free DC Public Schools assessment center for children between the ages of 2 years 8 months and 5 years 10 months. For more information, call 202-698-8037.
The Strong Start DC Early Intervention Program serves as the single point of entry for infants and toddlers in Washington, DC whose families have concerns about their development. If you have concerns about your infant or toddler call 202-727-3665.
Centers for Disease Control and Prevention's (CDC) "Learn the Signs. Act Early." program aims to improve early identification of children with autism and other developmental disabilities so children and families can get the services and support they need. To help, CDC has developed free, easy-to-use milestone trackers, and other helpful information about early development. "Learn the Signs. Act Early." materials are available in English, Spanish and some other languages. FREE materials include:
If you have questions or would like to learn how to integrate "Learn the Signs. Act Early" messages and materials into your organization, please contact, Yetta Myrick, CDC's Act Early Ambassador to the District of Columbia at [email protected].
To learn more about "Learns the Signs. Act Early. DC", visit them on Facebook.
---
Social, Emotional & Physical Development
DC Social Emotional and Early Development Project (DC SEED)
The DC SEED Early Childhood Mental Health Consultant provides programmatic and child-specific consultation services to early childhood providers within DC child development centers. In addition, the consultant provides professional development opportunities for center staff and families.

For children and families who need additional support and mental health treatment services, DC SEED clinicians are trained in three evidence-based treatment programs. Child-Parent Psychotherapy (CPP) Parent-Child Interaction Therapy (PCIT) and Strengthening Families Coping Resources (SFCR) focus on strengthening the relationship between the caregiver and the child. If you would like to learn more information or be connected with a DC SEED provider, please call the DBH Access Helpline or call one of the DC SEED Early Childhood Providers listed below: Community Connections 202-465-4065, Mary's Center 1-844-796-2797 or MedStar Georgetown 202.687.5086.
Steps for accessing the Positive Parenting Program:
1. Go to https://www.KognitoCampus.com
2. Sign in / Create your account
3. Enrollment key: dcparents
4. Launch program
Help Me Grow
Help Me Grow is a program for children, ages 0-5, who may have developmental or behavioral health needs. The program aims to support families and improve access to resources such as child health and early care and education. For more information, call 1-800-MOM-BABY.
Healthy Futures
Healthy Futures provides early childhood mental health consultation to District of Columbia early childhood development centers and home childcare providers. Healthy Futures is a prevention-based service in which mental health professionals join with families and childcare staff to promote healthy social-emotional development in children. Healthy Futures provides on-site mental health consultation services designed to increase the capacity of teachers, other child care professionals, and families to address the needs of children with challenging behaviors and to promote positive interactions among children and the adults caring for them. Through early childhood mental health consultation, Healthy Futures helps build protective factors in young children and increases the competencies and skills of families and early childhood educators.

For more information please contact: Stephen O'Connor at 202-527-0840 or [email protected]; Sharon Dietsche at 202-673-7792 or [email protected]
Parent Infant Early Childhood Program
The Parent Infant Early Childhood Program (PIECE) program's mission is to provide culturally competent community-based mental health services to infants, toddlers, preschool, and school-age children (ages 8 and under), that are responsive to individual family needs. Mental health clinicians provide early childhood intervention and treatment services, which provide familyfocused behavior management, counseling, and therapeutic support to caregivers and family members. The PIECE Program provides evidence-based interventions (Parent-Child Interaction Therapy and Child- Parent Psychotherapy) to parents, caregivers, and children from diverse backgrounds that support learning and development, specifically in domains that increase success in preschool, and the early grades. In addition, the PIECE Program supports infant and maternal health through improving the parent-child dyad and strengthening bonding and attachment. For more information please contact: Shermain Bowden at 202-698-1838 or [email protected]
The Primary Project
The Primary Project is a prevention and early intervention program designed to reduce mild adjustment difficulties of identified children in pre-kindergarten/4 through third grade. Primary Project child associates provide one-to-one, non-directive play sessions to young children. These sessions help to improve school-related competencies in task orientation, behavior control, assertiveness, and peer social skills through play. For more information please contact: J'Wan Griffin at 202-446-4128 or [email protected]; Sharon Dietsche at 202-281-9220 or [email protected]